How you can grow in an impact career: two Right To Play employees share their stories
Right To Play employees share how they've grown rapidly in their impact career.
Meet Shayna Halliwell and David Caribe, two employees at Right To Play, an organization that is leading youth around the world through educational activities. Shayna and David both have rapidly grown their careers at Right To Play, share their stories and insights.
"Right To Play gave me the opportunity to create my own path"

Shayna Halliwell
Global Program Partnerships Manager
Years at Right To Play:  1.9
Born in: Vancouver
Lived in: Sweden, Switzerland, Ghana & New York
Undergrad in: International Development at Queen's University
Master's in: Human Rights at Columbia University, New York
Shayna Halliwell is a Manager on the Global Program Partnerships team at Right To Play. Although Shayna's role at Right To Play has changed tremendously since she first started with the organization, she believes that Right To Play gave her the opportunity to forge her own career path. Currently she manages a $40 million dollar portfolio of multinational projects funded by the Government of Canada and typically spends her day communicating with Right To Play offices in Mali, Rwanda, Ghana, Mozambique and Uganda, as well as with her colleagues in various departments at HQ.
Shayna's role at Right To Play has changed dramatically since she started. "I originally joined the team in January 2017 to support the execution of a $25 million project in 8 countries. But based on the ebbing and flowing of funding, my portfolio and level of responsibility has grown substantially."  
"At Right To Play if you put your hand up for new opportunities and work hard, anything is possible."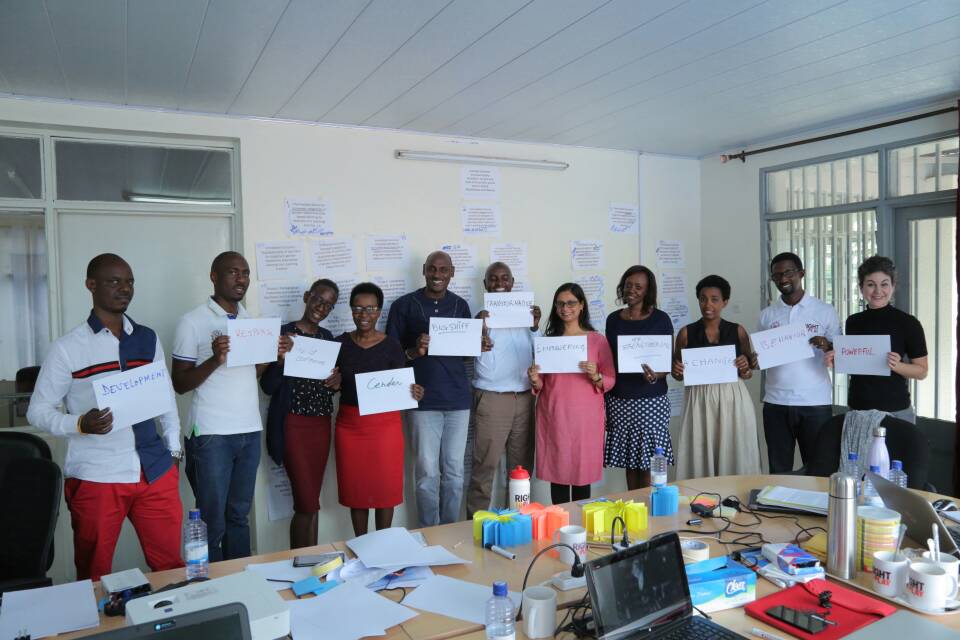 "At Right To Play if you put your hand up for new opportunities and work hard, anything is possible." Shayna explains, "I feel that as a 'yes' person, accepting a variety of duties, my role has changed in ways I could never have expected. I feel that I have learned so much in such a short period of time since I joined the organization."
Shayna was drawn to work for Right To Play because she  saw the incredible potential for play to be used in conflict prevention and resolution among children, particularly in communities with cultural tensions. "We are not born fearing the 'other'; this is learned behaviour. And if we learn at a young age to see the 'other' the same as we understand and see ourselves, especially through teamwork built into games, sports and play, we are less likely to objectify an entire population of people and more likely to work together to ensure our community is one that is cohesive and peaceful, and that celebrates difference rather than fears it."
"I feel proud to be a part of an organization that cares"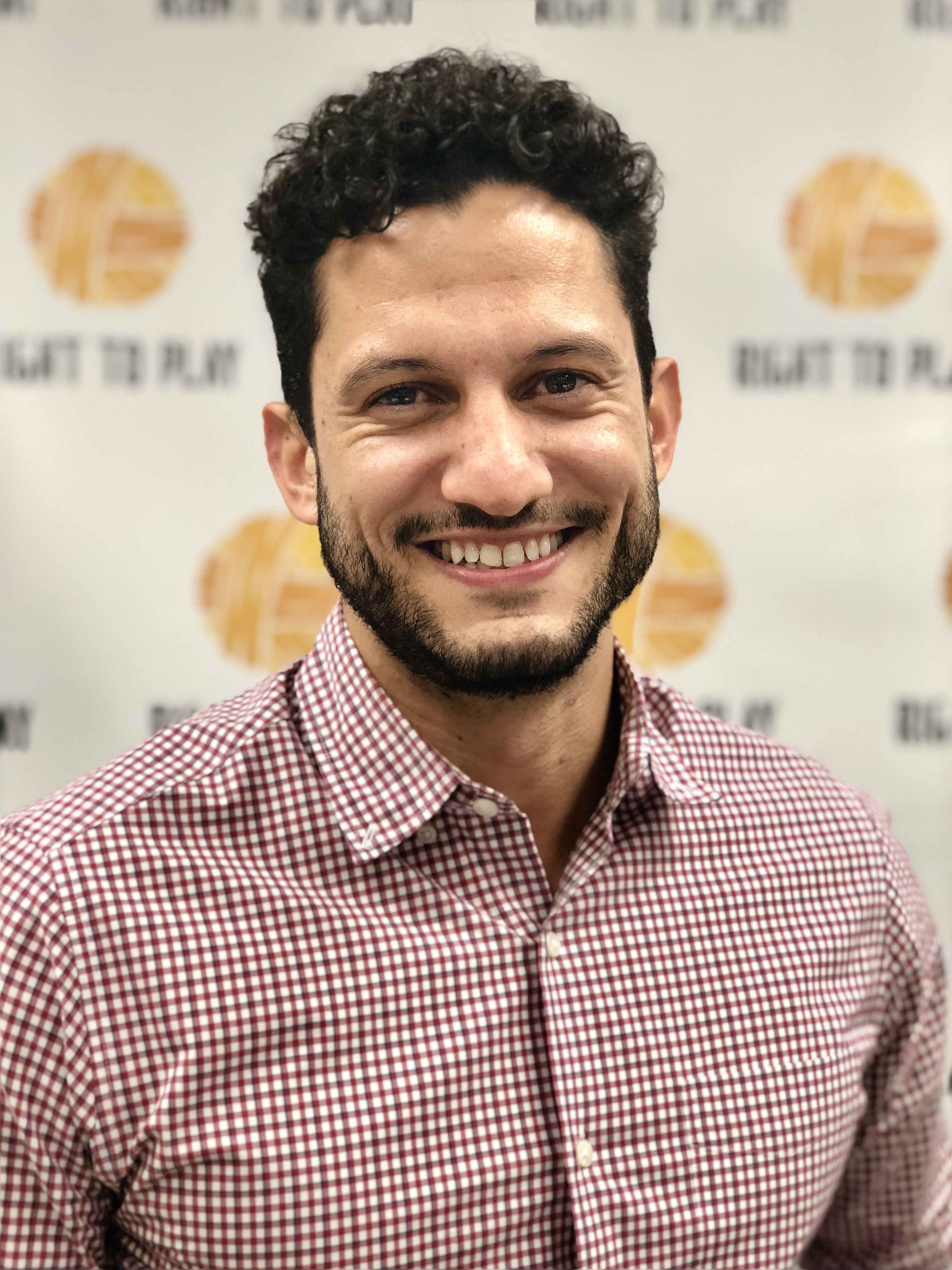 David Caribé 
Human Resources Coordinator
Years at Right To Play: 5.5
Previous roles at Right To Play: International Programs Support Intern; International Programs Coordinator; Global Program Partnerships Officer
Born in: Salvador, Brazil
Lived in: Switzerland and currently living in Toronto
Undergrad in: Business Administration at Universidade Federal da Bahia
Master's in: Sports Management at Western University
David Caribe's journey with Right To Play has created opportunities to develop professionally, step outside his comfort zone and provided him the possibility to make a global difference all without leaving the organization.
On a daily basis, David's tasks consist of payroll and benefits administration, along with recruitment and on-boarding initiatives and employee relations. HR at Right To Play is actually housed in the department of People and Culture. As such,  David sees first hand how Right To Play provides opportunities to develop oneself, explore different departments and bring forward your own ideas.
"Right To Play allowed me to demonstrate my ability to adapt quickly"
Prior to this role David was part of the Global Program Partnerships team, and had no specific background in HR. Right To Play supported his growth and education, and "allowed me to demonstrate my ability to adapt quickly and hit the ground running". David believes that Right To Play has always done a good job at making sure that staff is able to build their capacity, in order to do a better job.
One of his proudest accomplishments at Right To Play was having the opportunity to represent the organization during the Global Dignity Day (GDD) planning meetings in Norway. GDD is a global event aiming to help the next generation tap into values of kindness, understanding, tolerance and compassion around the world. "I was amongst many well-known individuals hosted by the Crown Prince of Norway, Haakon Magnus, and was able to inspire other participants and young leaders through the amazing work Right To Play does with children and youth around the world. I feel proud to be a part of such an organization that provides opportunities like these to their employees".
David feels what really makes Right To Play different from any other organization he has ever worked for is the international exposure, relative to the size of the organization – "we are close to 100 staff in Canada, and around 500 globally. Although we may not be a huge organization, the level of responsibility and learning opportunities offered to the employees are tremendous."
The organization has always made efforts to create a positive culture. It is a place that motivates their employees. They even have a "fun committee" that brings everyone together for various events. "We celebrate the diversity in our employees and educate one another on them" David explains. "Right To Play favours these cultural exchanges and values healthy work-life balance". Another thing that differentiates their work environment are the flexible working arrangements that they offer their staff. "In the summer, we allow everyone to leave work at 1pm on Friday, and in the winter, we do one Friday per month. We also understand that everyone works differently, so in order to support a culture of engagement, and accommodate our colleagues' desire to reduce time spent commuting, we allow them to work at flexible hours and to work from home once a week. In turn, we see an increase in performance, employee satisfaction, and communication across all levels!"
Shayna and David expose the possibilities Right To Play provides through their global initiatives and diverse employee opportunities. Whether it be in People and Culture, Global Program Partnerships or more, Right To Play provides the tools and resources necessary to make an impact.
Read more about the different roles at Right To Play and join the team today! Explore their Impact Profile and open positions here.
Right To Play is hiring currently for the following positions:
This story is brought to you by Right To Play.
Want more curated content delivered straight to your inbox?