People, Culture and Purpose. Raad Seraj, Client Success Manager, shares his unique career journey and why he values working at Benevity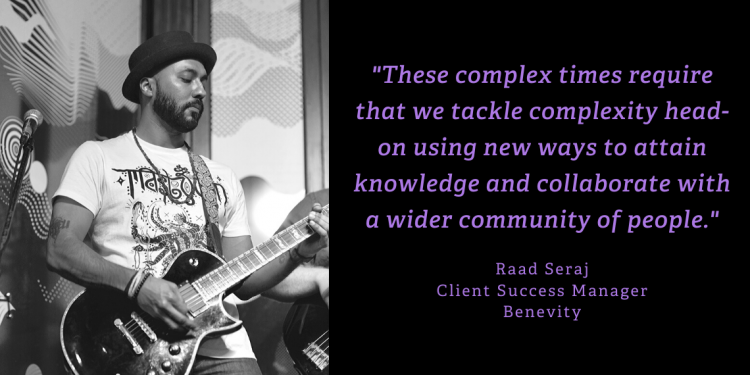 Finding a way to combine multiple passions and interests can be a challenging task. This international student from Bangladesh has done that and so much more in his 15 years in Canada – from cancer research, cofounding a tech startup, consulting at a globally renowned innovation hub and even hosting a web show with  MuchMusic. Raad Seraj, Client Success Manager at Benevity has had an adventurous career path that has allowed him to leverage both his passion for science as well as his love for art and music. Raad shares why he chose to work for Benevity and in the social impact space, and how the culture at Benevity has helped him to overcome challenges as well as create success so far in his career.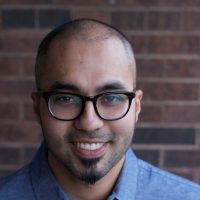 Tell us a little bit about you and your career. What best defines you and has helped you get to where you are today?
I like to think of the RIDE model as a guiding principle for my career. RIDE ascribes Reason (think like a scientist), Imagine (dream like an artist), Dialogue (identify value), and Entrepreneurship or (act like an entrepreneur). These complex times require that we tackle complexity head-on using new ways to attain knowledge and collaborate with a wider community of people.
What does your role at Benevity look like?
 As the Client Success Manager (CSM), my primary responsibility is clients and to ensure that they are able to leverage our products and succeed in their tactical and strategic goals.
This can range from addressing day-to-day technical challenges and managing the implementation of complex projects, to functioning as the subject manager expert who can guide clients in designing and administering ambitious CSR programs.
We're an enterprise SAAS company with a highly configurable product that requires CSMs to work in-sync with a wide range of teams – from development, front-line support, to project management, legal, and finance. CSMs are uniquely positioned to be the conduit between the range of teams internally at Benevity and the client. While this presents its own unique challenges, the opportunity to speak 'multiple' languages, learn, and grow is immense.
Can you describe a time that you made an impact in your role? Why was this meaningful to you?
I'm nearing my first twelve months at Benevity and it's been a wild ride so far. Benevity is at a very special place in the company's trajectory. We recently raised another round of funding and are growing rapidly. Like any other scale-stage company, our product, people, and processes are all evolving. Being a CSM during this stage is both challenging and exciting because there is a huge opportunity to learn and make an impact.
An example that illustrates this is a recent feature implementation for a new client. While the feature itself was standard, how the client wanted it implemented presented a set of challenges that we weren't able to predict – we simply didn't know what we didn't know. My still-growing knowledge of our product combined with a frustrated client made for a very bumpy implementation and as a result, a client relationship that suffered. However, owing to the support I received from other colleagues, I was able to get ahead of the curve, draft a robust plan of action, and walk the client through a rigorous process of education and follow-ups. While the work to rebuild trust continues, the client was able to run a very successful campaign and appreciated all the help, expertise, and attention they received during a sensitive transitional time.
Why Benevity? What inspired you to work in the social impact sector?
I've been working in social impact for almost ten years because it keeps me grounded. One of my favourite thinkers is the great comedian George Carlin who once said: "Inside every cynic is a disappointed idealist". I aspire to be an effective changemaker and the social impact space allows for one to be both hopeful but also practical. I joined Benevity because it solves a real problem. The world of philanthropy and charitable giving is often glamorized but in reality, it is quite chaotic because of a lack of capacity and/or accountability. Benevity, through the power of software, brings cohesion critically needed in the space by reducing barriers for charities and nonprofits, empowering individual donors with more choice, and providing a more effective way for corporations to manage and report on their CSR programs.
What keeps me at Benevity is quite simple. Benevity has the most incredible culture I've ever experienced because of the integrity, ingenuity, and dedication of its people. I'm an oddball and a natural skeptic but I thoroughly enjoy going to work every day because my colleagues inspire me and bring joy to my life.
Rapid Fire Questions
My first job was… dishwasher at a falafel restaurant.
Most people don't know that I… was briefly a host for MuchMusic's web series.
The skills and resources that I rely on most for my job are… ability to understand complex technical information and communicate to a non-technical audience.
The best piece of advice I ever received is… there are 3 kinds of people. Those who make things happen, those who watch things happen, and those who say "what happened?!".
Advice I have for others looking for a career in social impact… build a network of people who you connect with authentically, volunteer effectively through leadership or board positions, and always be genuinely curious and offer to help.
My greatest productivity tip is… creative procrastination is ok as long as you know why you need to do it.
What are you working on that you want others to know about?
Outside Benevity, I'm the co-founder of the nonprofit Anda Residency. We occupy soon-to-destroyed spaces in Toronto like a house, abandoned garage, or vacant storefront, and host secret artist residencies that use art to speak about complex urban issues like gentrification, affordability, and homelessness. I'm also the creator of Fashion in Flux, an experiential program that takes fashion entrepreneurs from around the world to Bangladesh on a two-week backpacking trip to understand the hidden world and politics of fast fashion from the lens of the people who make our clothes.