Corporate Social Responsibility Careers with Anureet Kaur, the CSR Consultant at Purolator Inc.
Born and raised in Dubai, Anureet Kaur moved to Canada at the age of 18 where she made a life for herself to better the world. Today she is the Corporate Social Responsibility Consultant at Purolator Inc. and is proud to be Canadian. We asked Anureet about her story and how her path brought her to where she is today. Here's what she had to say.
Tell us a bit about yourself.
At the age of 18, I moved to Canada as an international student to pursue my Bachelor of Business Administration (BBA) at the University of Toronto. So, I moved from a very hot and humid country to a "biting cold" country! I've been in Canada for almost a decade now and it certainly feels like home. I am always beaming with Canadian pride whenever I see a Tim Hortons in Dubai or when people talk about our Prime Minister in the US!
My passion towards bringing sustainable practices to businesses motivated me to gain perspective and pursue my master's in this field. In 2015, as part of my master's co-op program, I joined Purolator as a Strategy and Market Intelligence Intern. A significant part of my role required me to undertake policy research on Ontario's cap-and-trade program and how would it impact the transportation and logistics industry. I was immediately intrigued in understanding this regulation and what can businesses do to prepare themselves for such a regulation. I had a fantastic experience by working at Purolator and learning so much from different departments during my internship. I always maintained a very positive relationship with different stakeholders at the company. So, when an opportunity came to join their newly formed CSR team, I was very excited! I am thrilled to be back at Purolator to work with a fantastic team and be an integral part of an inspiring corporate culture!
How did your previous experiences help get you to where you are today?
I graduated from University of Toronto with a Master of Science in Sustainability Management. An extensive part of my graduate program was focused on writing a research paper on Ontario's Cap-and-Trade Program with an emphasis on how the program can be designed to effectively meet the 2030 reduction targets in the province.
I wanted to work in a sector that provided me with a strong foundation on greenhouse gas (GHG) policy development and research. I worked in a professional engineering and sustainability consulting company called Internat Energy Solutions Canada Inc. for two years under the Greenhouse Gas Verification team. Our team verified emissions for major industrial sectors that are regulated by the Ministry of Environment and Climate Change Canada. I also participated in numerous conferences and seminars pertaining to carbon pricing, CSR reporting, green buildings, and energy efficiency to enhance my professional development and growth. I am also involved with the academic sector. Recently, I presented my first guest lecture at Seneca College's Sustainable Business Management Program to introduce the Pan-Canadian Approach to Carbon Pricing and what are different provinces and territories doing to prepare for a carbon pricing policy in 2019.
I believe that your level of interest and expertise in 3-4 specific topics matters more than knowing a little bit of everything. I write articles on how to accelerate to low-carbon energy in North America on my LinkedIn and read a lot of books pertaining to this subject to develop my knowledge and skills.
What's a typical day like for you?
I conduct research and contribute ideas that will aid in the development of environmental sustainability policies. I work with the team to help create detailed plans, build relationships with partner organizations, and then implement and coordinate a range of activities and initiatives which are designed to have a positive impact on the environment and local communities while elevating Purolator's brand reputation and goodwill. I am currently undertaking an in-depth stakeholder engagement session to understand what sustainability means for different departments. These departments include – operations, network optimization, retail, fleet, facilities, R&D etc.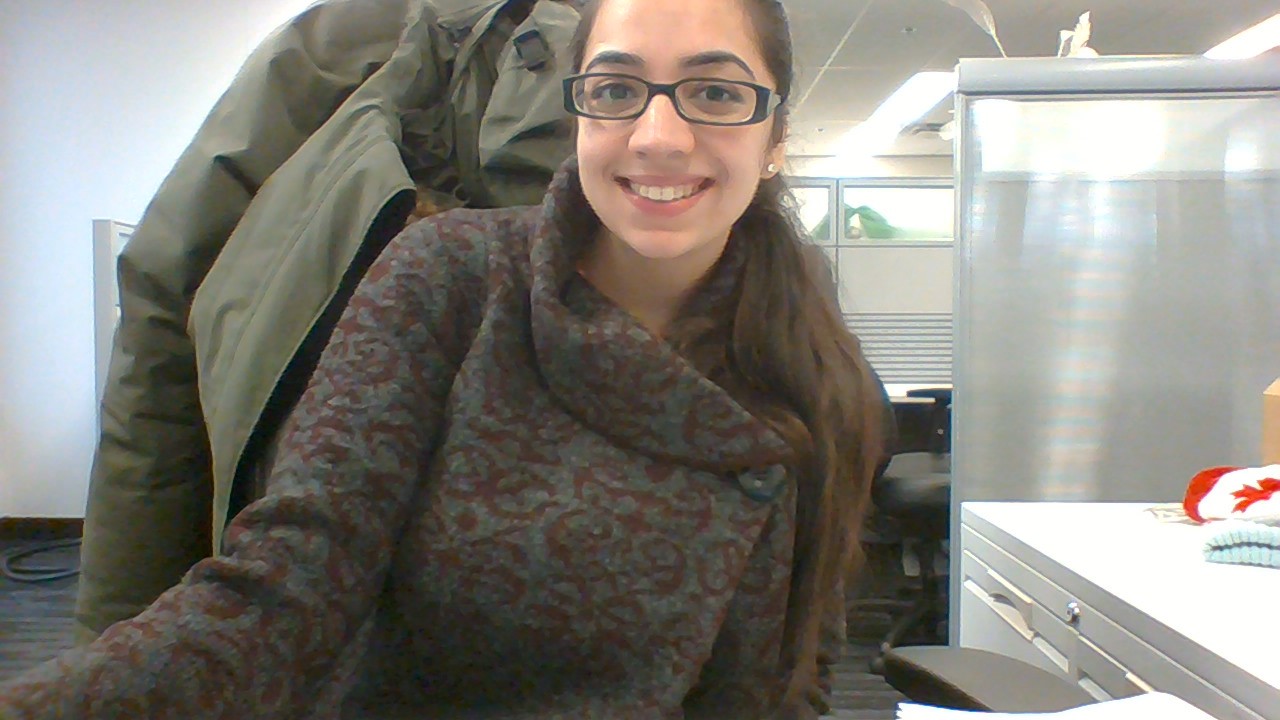 The skills and resources that I rely on most for my job are…
research, problem-solving and communication skills. I also read a lot of policy analysis pieces from Greenbiz and Corporate Knights.
Most people don't know that I…
am very passionate about discussing Canadian and American politics. I like to keep myself informed on everything that happens in the House of Commons and the Whitehouse especially on climate change and environment. These days I am listening to the Political Climate by Greentech Media which is biweekly and bipartisan podcast on energy and environmental politics in America.
The best piece of advice I ever received is…
from the Sustainability Director of The Works Design Communications Ltd. – Wesley Gee taught a course on Sustainability Engagement, Materiality and Reporting at my master's program. He once stated that "Your network matters more than your CV. Set a goal to meet one new person each week, and your network – and good opportunities – will grow". This was probably the best piece of advice I have ever received. I continue to network with like-minded professionals because I wholeheartedly believe that there is always something interesting to learn from their career path and their current job.
"Your network matters more than your CV. Set a goal to meet one new person each week, and your network – and good opportunities – will grow"
Advice I have for others looking for a career in CSR is…
be open-minded and don't stop learning! Subscribe to a CSR related newsletter or agency that delivers fresh news and opinion-ed articles to your mailbox every morning, like Bmeaningful. The more you learn about this industry, the more prepared you will feel in a job or an informational interview.
My greatest productivity tip is…
setting three concrete goals every morning. I like to write three goals that I wish to accomplish every day to keep myself focused and energized.  
Want more curated content delivered straight to your inbox?