What is the Employee Recommended Workplace Awards?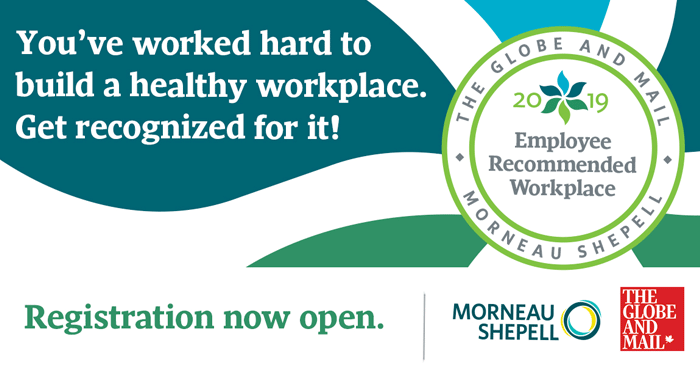 Employee Recommended Workplace Awards.
Employees are looking to work at organizations that care about them as individuals. This means a workplace that is dedicated to the total well-being of their employees. Being recognized as a healthy workplace, one that supports diversity and fosters engagement is extremely critical for recruiting top talent.
Bmeaningful,  TalentEgg and CharityVillage, are proud to partner with The Globe and Mail and Morneau Shepell to recognize great workplaces in Canada in the national Employee Recommended Workplace Awards. The Employee Recommended Workplace Awards recognizes excellence in achieving a healthy, engaged and productive workforce. What makes these Awards different than others is that is that the winners are chosen by the employees, making these awards very meaningful.
How Does It Work?
Your employees complete a short, confidential online survey. The survey gathers information about their well-being from a physical, mental, work and life perspective- to get a picture of their Total Health. Upon completion, employees receive a personal report that gives them their overall score and immediate feedback on their health and actions they can take to improve it.
Your company receives an Employer Report with valuable insights on your Total Health identifying strengths and weaknesses for your organization. This report represents an aggregate score – thus protecting the privacy of employees. Organizations that meet a minimum standard for Total Health are recognized as "Employee Recommended Workplaces". They will receive a badge of distinction recognizing this, and will have the right to use it in recruiting and other communications materials.
Organizations with the highest scores in each category (public, private, nonprofit, government) and by size (small, medium and large)  will be recognized as Category Winners.
Benefits for Employers.
Bragging rights as an award-winning employer, including a badge that can be displayed on your website, social media, etc.
An Employer Report that indicates your strengths and areas for improvement (even if you don't win, your company receives this).
Honest feedback from your employees
National recognition in The Globe and Mail (Category winners)
Special discounts and recognition from TalentEgg, CharityVillage, and Bmeaningful
Any benefits to my employees?
Going through the survey benefits not only the organization, but each individual employee as well, because they receive:
A personal report with immediate feedback on their health, and information about the things they can do to improve it.
A special Globe and Mail subscription offer:
A link to download a special freebie from The Globe and Mail: an e-book that focuses on soft skills and provides specific guidelines for employees to improve their lives at home and at work, and for employers to create a positive workplace atmosphere
How Does My Company Get Involved? 
Go to the Employee Recommended Workplace Awards website and follow these step-by-step instructions:
Step 1: Register
Step 2: Pay the registration fee (based on the size of your organization)
Step 3: Answer a few questions about your organization and what you are doing to create the best atmosphere in your workplace
Step 3: Upload a spreadsheet file containing all your employees' names and work email addresses
Step 4: You will receive email instructions from there
Step 5: Celebrate your win!
What Are The Timelines?
Registration closes on November 22, 2018
All employee surveys must be completed by December 21, 2018
Organizations that receive the distinction of being an "Employee Recommended Workplace" will be notified by February 1, 2019
Winners in each of the 12 categories will be announced in March 2019
Category Winners will be recognized nationally in The Globe and Mail
Click here to start your registration for the
2019 Employee Recommended Workplace Awards!