3 impact companies great for business grads
When you're a Purple Sheep and business grad, you're likely looking for a company where you can use your skills for good, make a difference with your career and earn a decent paychque. After all, you've just spent a good chunk of change on tuition and many hours developing your business knowledge tool kit.
It's hard to find out all the companies that value business skills and purpose. This type of job search is harder than traditional job search and will require research and lots of networking (and more). But here's a head start on 3 companies that are great for business grads.


Sustainalytics is an award-winning, global responsible investment research firm specialized in environmental, social and governance (ESG) research and analysis. Offering global perspectives and solutions that are underpinned by local expertise, serving both values-based and mainstream investors that integrate ESG information and assessments into their investment decisions.
Believing in the mission is an important aspect of the culture at Sustainalytics, and they deliberately recruit people who share their affinity for sustainability and who have a drive for excellence in their work.
Staff come from diverse educational backgrounds. At Sustainalytics there are sector specialists (such as people that come from the oil and gas industry) as well as content specialists (such as climate change or human rights specialists). They often fill entry level roles from business schools, because it's important our staff understand the business language our clients speak.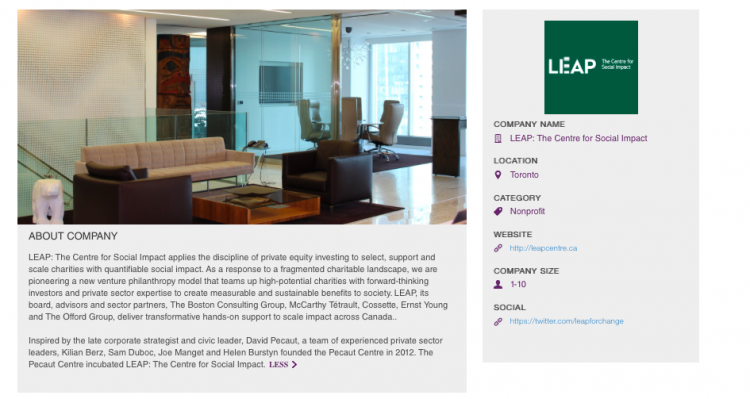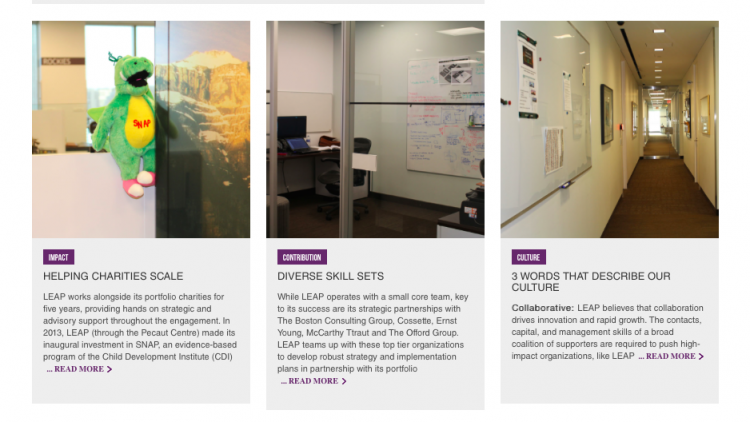 LEAP applies the discipline of private equity investing to select, support and scale charities with quantifiable social impact. As a response to a fragmented charitable landscape, they are pioneering a new venture philanthropy model that teams up high-potential charities with forward-thinking investors and private sector expertise to create measurable and sustainable benefits to society.
LEAP looks for people who are:
Passionate: Individuals who are motivated to work in venture philanthropy and social impact focused work
Comfortable: Individuals who thrive in start-up, fast-paced environments
Open minded: Individuals who embrace change, seek innovative solutions and are open to diverse ideas
Results-oriented: Individuals who are motivated to achieve measurable outcomes
Experienced: Individuals with a combination of for profit and not for profit experience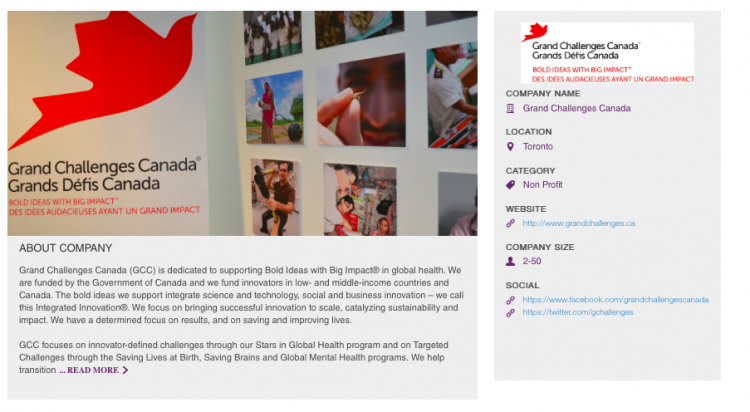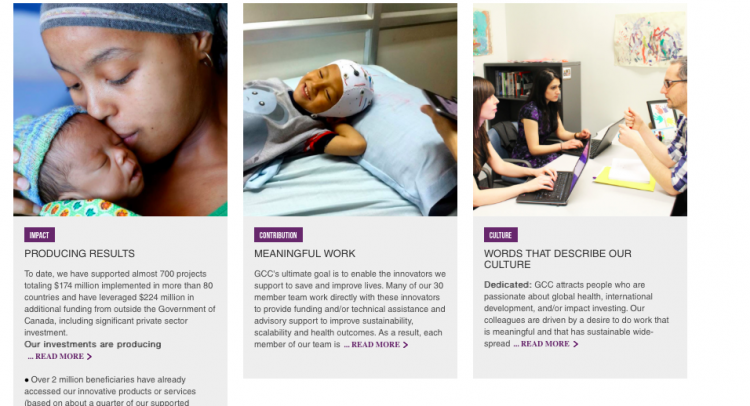 Grand Challenges Canada (GCC) is dedicated to supporting Bold Ideas with Big Impact® in global health. They are funded by the Government of Canada and fund innovators in low- and middle-income countries and Canada. They focus on bringing successful innovation to scale, catalyzing sustainability and impact. 
GCC's vision is to make the world a better place through global health. The breadth of initiatives they fund, whether it's sanitation, maternal newborn, or point of care diagnostics, is all about saving and improving lives. Further, there's a strong focus on results and impact which influences their investment decisions. As a startup themselves, they believe it's important they deliver results, so they are measuring, tracking and monitoring. 
GCC looks for people who have:
1. Flexibility: The ability to adapt rapidly and effectively to changing needs and priorities.
2. Leadership: Demonstrating focus, taking on responsibility, showing initiative, and being proactive
3. Entrepreneurial/Innovative Skills: Using creative thinking and problem-solving skills to take on challenges and find solutions that benefit innovators and the organization as a whole .
Want to see your company listed here? email info@bmeaningful.com