Amanda Javier of Public on the importance of culture
Name: Amanda Javier
Job Title: Operations and Culture Specialist
Hometown: Campbellville, ON
University/College Name and Major: George Brown College
Number years at Public: 3.5
What do you do at Public Inc.?
Depends on the day! I'm a team of one (with some great support) so my job includes everything from repairing things (HandyManda), sorting through resumes for potential candidates, figuring out tech and logistics, developing and running our culture strategy and a million other little things that build the big beautiful picture that is Public Inc. In very simple terms my job is to ensure that our teams are happy and have all the tools they need to be the best they can be.
Why did you want to work at Public Inc.?
I wanted to work at Public Inc. because of their profit with purpose model. I never knew there were organizations that have a social impact heart with a business brain until I heard of Public Inc. Public Inc. is a bit of a unicorn in that way.
What's the culture like at Public Inc. and how do you contribute to that?
Public Inc.'s culture is very unique compared to anything I have experienced in my career, and it's definitely evolved over the past three and a half years that I've been there. It's very intense due to the nature of the work, but there's a community bond amongst staff that's just incredible to be a part of. We all know each other as full human beings, not just colleagues, which makes the stresses of life so much easier to manage. My contributions to our culture include things such as monthly features (Plastic Free July and a Gratitude Month), fun (and sometimes informational) events and creating policies that support our values. The real heart of the culture is our phenomenal staff community. We really have a special crew right now.
Why is it important for Public Inc. as a company to focus on culture?
I think it comes back to our model of profit and purpose. Strong culture is profitable because when staff are happy and well taken care of they can do their best work. It's also purposeful because we want to have an impact not just on our clients and their work, but also the day-to-day lives of our people.
What are some innovative culture practices that Public Inc. is doing that people may not know about?
Our paid volunteer week is something that I think is really innovative. Staff have a lot of flexibility over where they want to spend that week and it really adds a lot of value to their personal lives and the community that they spend time in. We've had staff travel as far as India, as well as some hometown volunteering with organizations like Hot Docs. I'm also really proud of the results from our monthly culture features (I can't wait to run the Gratitude month again!). Both the volunteer week and culture feature programs are incredible because they focus on enriching staff's lives outside of traditional professional development, which is a key to supporting a well-rounded, happy (and high performing!) employee community.
Like what you hear? See what it's like to work at Public.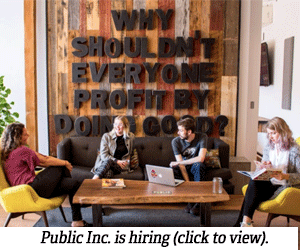 Want more curated content delivered straight to your inbox?