MaRS leaders on empowering employees and the secrets to success
It's a fact: inclusivity makes MaRS Discovery District (MaRS) an exciting place to work. As North America's largest urban innovation hub, the organization's diverse employees bring with them unique experiences and expertise, helping startups scale and advance Canada's economy on the global stage.
Recently, we spoke with two senior leaders at MaRS about career and team building tips and their keys to success.
Usha Srinivasan, Vice President, Venture and Talent Programs

Hometown: Chennai, India
Time at MaRS: 10 years
On career cross-pollination
"I've had many titles: scientist, market researcher, educator, convener, etc. But most importantly, I'm a collaborator. My soft skills have helped me most in advancing my career — listening with empathy; having resilience and patience. At MaRS, we help technology entrepreneurs and innovators change the world. And that starts with strong dialogue."
On empowering team members
"Leadership is about enabling. When new people arrive at MaRS, I always encourage them to be part of the solution; to let their skills and passions shine. Ours is a dynamic organization. If you want to make a difference with your work, this is the place for you."
On character traits
"The most important thing you need at MaRS is to be able to understand your customer really well — be agile and nimble in testing and creating new products and offerings."
On diversity of thought
"Diversity of thought is a very important quality as well as being comfortable with conflicting views. Disagreements should never be personal. Ask questions. You may decide to agree to not agree on the matter. This all leads to healthy culture and conversation."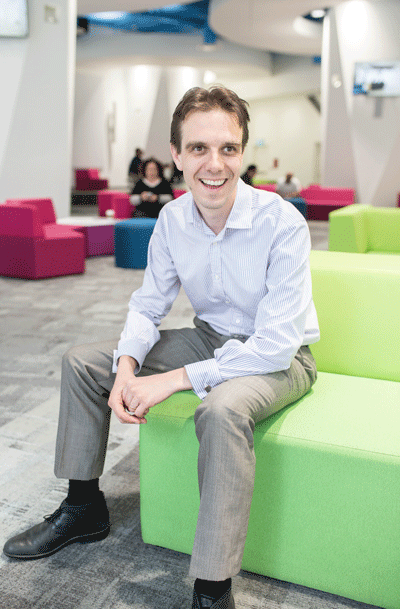 Joe Greenwood, Lead Executive, Data
Hometown: Leigh-on-Sea, England
Time at MaRS: 7 years
On coordinated communication 
"Being a good leader means unlocking the best in people to collectively achieve something they couldn't before. It's really the key to getting things done and the foundation for building partnerships and alliances."
On leaving your comfort zone
"If you want to develop professionally, get involved and be curious. You need to do something far out of your comfort zone to learn from it. Because MaRS is a mission-driven organization — an innovative organization — it's able to achieve incredible things."
On fostering right environment
"If you create an environment where you give people something to believe in and show some faith in their abilities, they will achieve incredible things."
On soft skills
"This sector is very multi-stakeholder and you need to collaborate with companies, governments, investors, and people with different interests. In that sense, the art is knowing where everyone is coming from and being able to help them all come together."
Each leader at MaRS brings different backgrounds and varying experience. Through a strong culture of curiosity and constant learning, MaRS delivers on its mission to make positive impacts on society. If you're interested in learning more about MaRS, explore their Impact Profile and roles here.
This article is brought to you by MaRS.
Want more curated content delivered straight to your inbox?