This 1 skill, says an ex Google & Apple exec, can turn you into a great leader
Earlier this year, Kim Scott, an ex Google & Apple exec and currently an advisor at companies like Dropbox, Qualtrics, & Twitter, gave a talk at Strata + Hadoop World on how to be a better boss through the use of what she calls Radical Candor, the goal of which is to help you and your teams do the best work of your lives.
Kim opens with a story of how Sheryl Sandberg  gave her honest advice about how saying "'um' every 3rd word made her sound stupid" after what had seemed like a really successful meeting with Eric Schmidt.
2 ingredients of Radical Candor
To be able to practice radical candor, we need to be able to do two things well: Care Personally and Challenge Directly. Seemingly simple, it is exceptionally difficult, and truly radical, to show up with both of these everyday with everyone in every situation. This is because our workplaces require us to be 'professional' (implicitly reducing the personal element) and our world tells us "if don't have something nice to say, don't say anything at all" (implicitly reducing the challenging element).
Before you start putting names into boxes, however, remember that all of us spend time in each of these boxes. It is really important to judge people's praises and criticisms using this framework, not people themselves.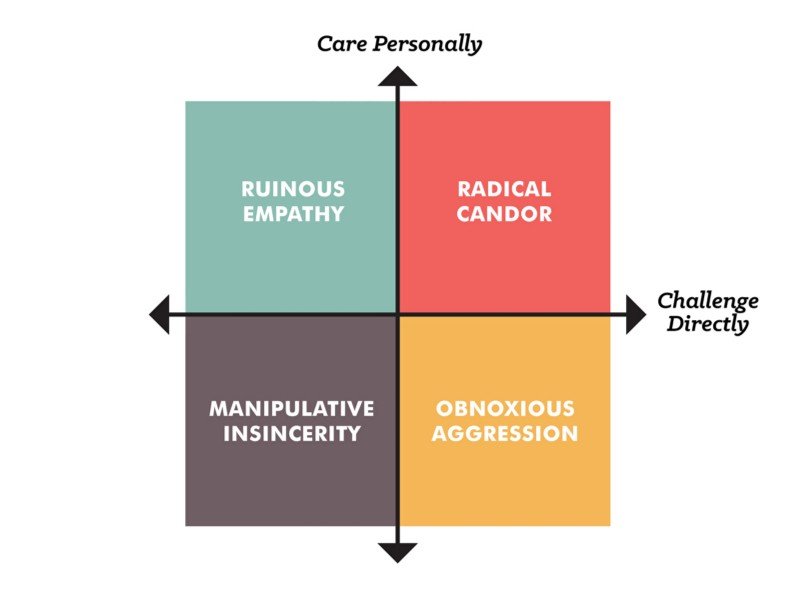 When Radical Candor fails 
Here's how we behave when we fail to exhibit Radical Candor, in the order of 2nd best to worst.
Obnoxious Aggression, also known as the infamous a-hole, 

is when we simply announce our opinions without taking care to make sure we first express to the recipient that we care about what matters to them

Ruinous Empathy is the incredibly comfortable cover to hide under where we express fake kindness to avoid having the honest, difficult conversations which only delays and worsens the ultimate outcome for each party, the team, and the organization
Manipulative Insincerity is the worst of them all where both relationship and work outcomes are sacrificed with little chance of recovery
3 ways to start practicing Radical Candor today
It is really easy to listen to fascinating talks, read interesting articles, and go right back to our daily routines without changing anything. Here is how you can start giving, getting, and encouraging Radical Candor today:

What are your stories of Radical Candor? Share your thoughts, reactions, and stories in the comments.
———
Watch Kim's full talk here
This article was written by Hamoon Ekhtiari.  Hamoon is currently the Director of Strategy and Innovation for the Executive Vice President at TELUS. Previously, he was the Founding Director of Studio [Y], a leadership and innovation academy at MaRS, Canada's largest innovation hub. Hamoon has also founded a social enterprise which raised $1M in its first year, helped build Deloitte's consulting business in the Caribbean, and taught as adjunct faculty. He is a member of the Governor General's Canadian Leadership Conference, an AdR Fellow at University of Cambridge, a recipient of University of Waterloo's Alumni Achievement Medal, and a Canada Millennium Scholar. Through his most recent venture, Audacious Futures, Hamoon works with leaders and innovators across sectors and around the world on breakthrough transformation and bringing big ideas to life.