Maria Piñeros Murillo. Graphic Designer & Illustrator. JDC.
From a very young age Maria Pineros Murillo knew she wanted to be a designer. What she didn't know, was how she could use design as a force for good… until she met the folks at social good consulting company Joint Development Consultants. With a shared vision, Maria joined the team and is currently responsible for the creative and visual direction for all projects
What does your job entail including what a typical day and project might be like? 
I am in charge of the creative side of the Agency, and work in Design and Illustration. I am responsible for providing creative and visual consulting for all the projects that come in.
Every day is a bit different here at JDC – our day really depends on the projects clients bring to us, and every project brings something new to the table. For instance, right now, we are working on a handbook for international students, tomorrow, it might be something completely different.
Usually, we start our day by reviewing the tasks that need to done and the deadlines we have to meet. We make sure we keep our clients up-to-date and work hand in hand with them to ensure their project reaches its highest impact.
Describe your career path including how you got your current job, and why you are interested in meaningful work? 
Since I was a little girl, I always knew I wanted to be a designer. However, it wasn't until after getting my diploma in Fashion Arts that I realized my passion was truly in Graphic Design.
It's funny how things work out– in my last year of Design School I decided to focus more on taking on projects that sought to create empowering messages and impact local communities in positive ways. Getting started wasn't easy off course. I had a lot of people who told me that Design was already a tough field to be in, and working primarily in the non-for profit sector would be even harder for me. However, I was lucky. A year after finishing Design School, I met the team at JDC. They shared my same vision, and realized the importance of working together on projects that were meaningful and carried inspiring messages to local communities.
What's the coolest part about your job and what's the biggest challenge?
It might sound very cliché, but the coolest part of my job is that I actually get to do what I love! I thrive on being creative and using my skills to produce work that resonates with the community. I am fortunate that at JDC I found an environment where I get to imagine, produce, illustrate and share ideas that make others really happy. Some people go home and just want take their minds off work – but not me.
I think the biggest challenge is making people understand a vision they never thought or heard of before. When I started to think about designing for social good, many people didn't know what this exactly looked like and weren't able to see its potential. This a challenge that I, and many others in the field, will often encounter. But as long as we have our mind set on what we need to do, without thinking too much of what other people think, our work will speak for itself. Another big challenge of mine – which I'm sure a lot of creatives share – is keeping track of the million project ideas that go through my head. 
What advice would you give to a job seeker looking for meaningful work?
Do not give up! Like I said earlier, one of my biggest challenges was allowing myself to be influenced by people that didn't share my same vision. I learned from it, and my best piece of advice is that when you long for something, you have to go out and get it. Or better said by my Mom: "Don't wait for opportunities, create your own."
What can you identify as the biggest opportunity in your sector right now?
I believe one of the biggest opportunities is that we are becoming more conscious of the footprint we leave in the world. Our generation is a lot more aware about issues that are affecting our society and we are becoming more curious about the world we live in. This in turn can lead to more opportunities for people to find meaningful work in their respective fields, and forces companies to think more carefully about how their vision, mission, and products are impacting the communities around us.
What's one thing on your resume that someone may not expect to find? 
This is a hard question! If you didn't know me, you would maybe be surprised to find out that I lived a year abroad in Leeds. If I wasn't a designer I would probably be a professional traveller (is that even considered a job?).

Want more curated content delivered straight to your inbox?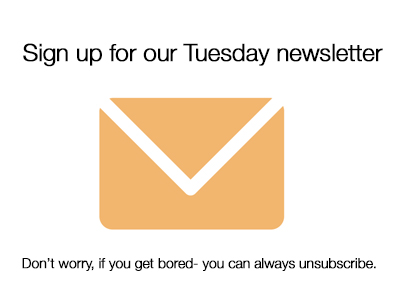 Follow us on twitter @b_meaningful and like us on Facebook