Inside Summerhill: What it's like to work there
Behind the Impact: It's inspiring every time we go behind the scenes at an organization that does well by doing good. Especially where the culture allows people to be themselves, make an impact and have fun all at the same time.
Summerhill is an energy efficiency and engagement company that designs and implements consumer conservation programs. Working with utilities and government agencies, Summerhill delivers programs that are good for your health, environment and wallet.
Summerhill was founded in 2001 and became a registered B corp in 2013. The decision to become a B corp was "super easy" says Ersilia Serafini, President of Summerhill, "because we've been acting like one since we began", that is, making money while doing good.
Summerhill designs and delivers public initiatives that encourage conservation, like the cleverly branded "Tundra Takeback Program" which is an automotive recycling program in the Arctic Circle. This is a "neat program because it's a social return on investment type of program" says Janet Taylor, Account Manager of Summerhill Impact. Other notable Summerhill Impact programs include lawnmower exchanges, and recovery of toxic mercury car batteries.
Awards and Bcorp certification on display at the entrance
The People
The range of initiatives that Summerhill develops calls for a range of expertise, so not surprisingly the people at Summerhill come from various backgrounds. Many of the roles require a specific type of technical expertise, like environmental science. Despite their distinct backgrounds, they all share a common passion for the environment and having a positive impact.
Employees get together for a team photo
"Everyone's here for the same reasons- wanting to make a difference. So it's easy to relate to people and it's easy to have fun" says Jenna Bentley, Program Director. "Since generally everyone feels good about what they're doing, they're more positive and more excited to come to work"  she adds.
Janet Taylor, Account Manager of Summerhill Impact at her desk
To be successful at Summerhill requires embracing change and thriving in an entrepreneurial setting. "To succeed here, it really requires you to be a self-starter and have a go-getter attitude" says Serafini.
Promoting from within seems to be an unofficial policy of Summerhill, with close to 90% of the staff starting their career with the organization as a Field Representative which shows there's lots of room for development and growth.
Office Culture
Teamwork and collaboration are really important at Summerhill and their office traditions and work environment are designed to reinforce that. No tradition highlights this more than Friday's "Grub Club". Each week, staff members take turns signing up to bring a part of lunch for the rest of the office. The office tradition has evolved over the years to include themed lunches- like Cinqo De Mayo, Dirty Hipster and Hawaiian Luau. And in the summer the BBQ gets put to good use. Other team building events include office theme parties, neighbourhood trash pickup day, and a family picnic in the summer.
The team getting lunch grilling for Friday's "Grub Club" Summer BBQ- eaten outdoors on picnic benches
Summerhill's culture is very entrepreneurial and to work here you have to be comfortable with constant change. "We operate at a super fast pace, so the individuals that succeed here aren't waiting for anyone to ask them to do something. They're identifying the opportunities and bringing it to the attention of their manager or they're asking their neighbour if they need help on something" says Serafini.
But "it's not only about work hard for your paycheque, it's work hard for the environment and to have fun too" explains Taylor, and "the best part about working here is "that I can be really proud of the work I do on a daily basis". Employees feel proud because "everyone feels like it's almost their company", explains Stephanie MacMillan, Graphic Designer.
The friendly culture also makes it easy to give and receive recognition for a job well done. Along with office updates, monthly team meetings are opportunities for peer driven recognition, where staff point out the successes of their colleagues. A pat on the back goes a long way. The team meetings are also opportunity for sharing updates and connecting via Skype with Summerhill's satellite offices in Halifax and Regina. And if you were thinking Friday afternoon team meetings are a drag, think again, there's an LCBO run right before the meeting.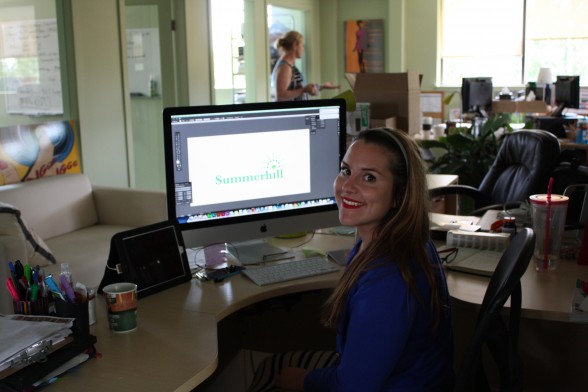 Graphic Designer, Stephanie MacMillan working on a project 
Working hours are standard 9-5, but if there's ever a need, employees are driven by passion to stay late to get the job done. Extended long weekends (eg always a 4 day weekend instead of three) in the summer is another perk the staff enjoy.
Work Environment
Outside the offices in Leaside
The office is located in a semi-industrial area in Leaside, and despite free parking, Summerhill encourages their employees to bike to work with an office that comes fully equipped with showers and change rooms.
Summerhill's 3 storey building is a mix of cubicles and enclosed offices.
The office has a second home feel to it, with a big kitchen table and a fully functioning communal kitchen (stove top and microwave and all- not pictured).
There's lots of natural light, making for a bright and optimistic work environment.
Interested in learning more about the people who work here?
Read our interview with the President of Summerhill, Ersilia Serafini. 
Meet Janet Taylor, Account Manager
Meet Jenna Bentley, Program Director
Meet Stephanie MacMillan, Graphic Designer 

Want more curated content delivered straight to your inbox?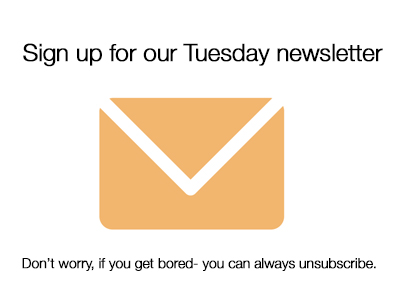 Follow us on twitter @b_meaningful and like us on Facebook