6 signs you've reached your job expiration date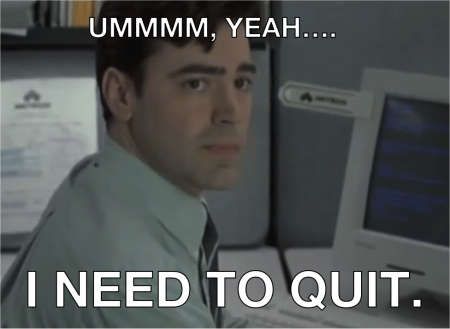 More than 14 million people have viewed a disgruntled employee's "I quit" video that was uploaded to YouTube last week. In her self-made dance video to Kanye West's song "Gone", Marina Shifrin, described that "for almost two years I've sacrificed my relationships, time and energy for this job, and my boss only cares about quantity and how many views each one gets". So she created her own to let him know that… she quit.
This was a highly elaborate way to quit and got us thinking about how to know when it's time to leave your job. Just like when food hits its expiry date, there's obvious signs that you're past your prime. Instead of growing mold or smelling funky here are some of the tell-tale signs that you've reached your best before date on your job:
1. You dread going into work every morning.
No one loves a Monday morning, but if you find yourself constantly dreading work, or suddenly excited about getting a cold to take a sick day- it's time to go.
2. You find yourself stressed all the time.
Do you find yourself working all hours because you have so much on your plate? Is there office politics or a stressful work environment? If you're having nightmares or waking up in the middle of the night thinking about what you have to do tomorrow, it's a sign to take seriously.
3. You're bored, unhappy and unmotivated.
Do your days feel so long that you swear time has actually slowed down? The excitement you once had about your job is gone and now you find yourself looking and feeling like Grumpy Cat. Whether it's because your job's not challenging anymore or they won't give you more responsibility despite how good you are, it's a sign you need to move on.
4. You have no career progression opportunities.
If you've been in your job a while and not getting challenging projects or you or can't even see what your next step will be, it's time to seriously evaluate your job. Even though you're out of school, it's crucial that you continue learn, grow and develop on the job. Take time to consider where you want to be in 5 years and start making a plan of action to get there.
5. You've already picked out the song you're going to quit to.
If you've daydreamed about how you're going to quit or what song you'd play when you do it, you're ready. With a tough economy and a steady income, it's easier to talk about it than actually take action. But if you find yourself talking about it all the time- to your friends, family or anyone who will listen, it may be time to bite the bullet and just do it.
6. You don't like what your company stands for.
If your company is doing something that you don't believe in or you know that you want your career to make more of a difference, then it's time to leave. You may be hesitant to leave because of the nice paycheque that comes along with the job, but that's where we at Bmeaningful feel that there should be no compromises. Join us, be meaningful and become a Purple Sheep now. 
Quitting is a big decision. As tempting as it might be to hit "play" on your quit song, make sure that your plan of action is ready. It's important not to quit too prematurely as it could be some time before you find your next gig. If you haven't figured out what you'll be doing next, we recommend slowing down to 70% capacity at work and spend 30% of time dedicated to YOU, finding your next job. This strategy is safer than taking the plunge too soon.
Now it's your turn. Tell us how you knew you were ready to quit or what song you'd chose to quit to? Leave a message below and let us know.