The inspiration you need for 2019!
As the year comes to a close, let's look forward at all the possibilities that this new year holds. Here are some words of inspiration, notes of advice, and points of motivation from industry leaders to help you get this year started on the right foot.
Words of Advice for 2019 from our Impact Community!
"Your passion is you, not some career you pick out of a lineup. It's the energy you bring to everything you do. The things that will drive, trigger and inspire you are important, but they are clues, not necessarily the end objective. Sometimes, you don't know where any of it's heading until you get there – and that's O.K."
– Terri Trespicio, Branding Strategist and Coach
"Take care of yourself first and foremost. You can't help other people if you're not as healthy in mind and body as you can be. Look for ways you can grow your skills and knowledge. Say yes when it matters. Embrace life. Feel gratitude. Stay in the moment. Love and be loved."
– Paula Attfield, President of Stephen Thomas
"Don't wait to start that cool project you've been daydreaming about. Don't wait to reach out to that person who you admire. Don't wait to make a change in your life. If we wait until we're ready, we'll be waiting for the rest of our lives."
– Ryan Collins-Swartz, Social Impact Manager at Tapestry Community Capital
"My best advice to people who want to make a difference is to begin – take a pause in your life to find out what drives you, what your purpose really is. Once you know that direction, set your compass & start moving in that direction. It's the hardest part, but having the wheels in motion will get you on road to discovering places you didn't know existed taking routes less traveled. Actions triumphs ability."
– Keith Jones Founder of Brandvan
"Share your best ideas and don't be afraid to speak about issues that are important. It's necessary to do if we are to help create the world we want to live in."
– Mike Gifford is the Founder of OpenConcept
"My advice for those looking to make an impact is to go out and network. Of course, keep on top of job postings and use a great resource like this one at Bmeaningful. But don't make formal job applications your only strategy. Get out and meet people face to face to learn more and grow your network."
– David O'leary's Founder of Kind Wealth and Director of Impact Investing at World Vision Canada
"Meaningful work means working in an area where I can add the most value and where I can create opportunities for individuals and communities. Find where you can add value and just do it!"
– Muska Ulhaq Project Manager and Conference Lead, Social Finance Forum of MaRS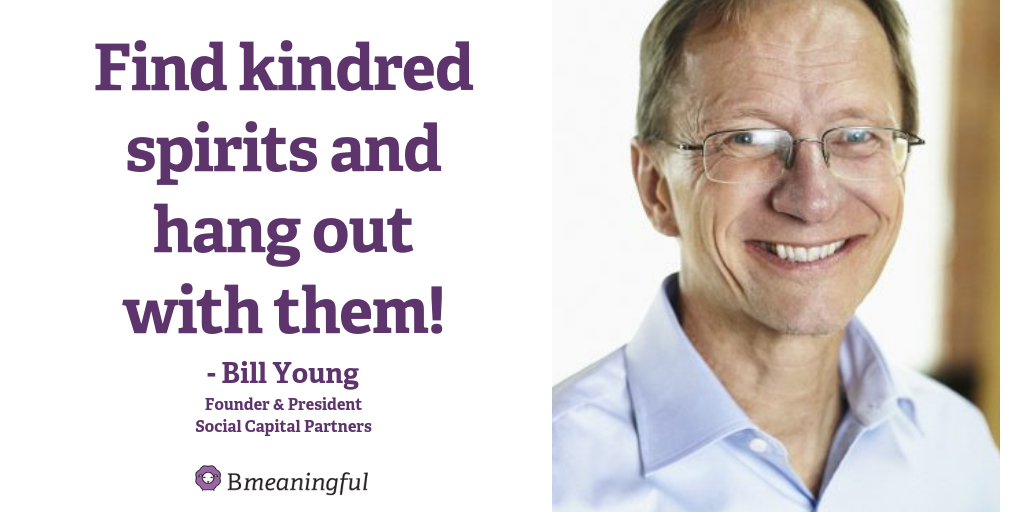 "My best advice to people who want to make a difference is to follow your heart AND use your head.  Make sure to know your value, work hard, do great work, empower people and the rest will fall into place."
– James Powell, Director of Cause Marketing at Sick Kids
"Be a good listener, partner and be someone who never gives up."
– Rodney Ghali, Assistant Secretary to the Cabinet, Impact and Innovation Unit at Privy Council Office
"Don't be afraid of what might be, but be afraid – be very, very afraid – of what will not be. That's the only sure way to let the power of fear work in your favour and not against you to make a meaningful career change happen."
– Kathrin Bohr, Impact Career Coach
"My advice would be to really think about what is meaningful to you personally and how your skills, talents, and interests might be utilized best."
– Andrea Cohen Barrack, VP Community Relations and  Corporate Citizenship at TD
"Understand who you are and the impact you are meant to have on the world. Be aware of opportunities, embrace change and even failure."
– Cheryl Dorsey, President at Echoing Green
"Do it! And surround yourself with like-minded people. Seek advice and support because it is out there, you just have to ask."
– Tara Milburn, Founder of Ethical Swag
"Let people speak, you will learn a lot from listening."
– Matt Woodward, the Manager of Client Success at Benevity
"The advice I have for others looking to become sustainability practitioners is to make sustainability a core dimension of your calling card, but maybe not the calling card itself."
– Drummond Lawson, Director of Social and Environmental Sustainability at Arc'teryx
"Take on challenging assignments and don't try to do it alone."
– Jay-Ann Gilfoy, CEO of Vancity Community Investment Bank
"There's no formal path to leadership in impact investing so understand the market, do your homework, network and get outside your comfort zone."
– Upkar Arora, CEO of Purpose Capital
"When going through difficult times, remember: It might be a bad day, it isn't a bad life!"
– Mritunjay (MJ) Sinha, Independent Impact Investments Consultant
"To be an effective leader you must: build trust, develop the team, show appreciation, and listen actively."
– Kathy Lockwood is an Executive Coach and Founder of Blue Water Leadership Coaching
"Be aware of your resources.  There is no shortage of impact needs, and a robust set of financial tools exist."
– Adam Jagelewski, Lead Executive of Impact Investing at MaRS
"My advice to people seeking a meaningful job is don't settle for anything less than your dream job. Have some grit. Be 100% committed to the search. If you get knocked down seven times, stand up eight times."
– Mide Akerewusi is the Founder and CEO of AGENTSC
Want more curated content delivered straight to your inbox?