Lindsay Oughtred the Executive Director of Kids Up Front Toronto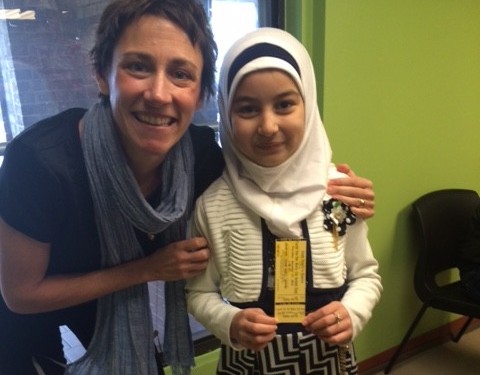 If there is one thing typical of the many professionals we interview in the impact sector, it's that no two careers paths are alike. Take Lindsay Oughtred, who taught high school for a decade before launching the Toronto chapter of Kids Up Front. Now she's involved in every aspect of running a smaller non-profit. If you're interested in a career that allows you to pursue your passion with autonomy, variety and accomplishment, then Lindsay's story is for you.
What does your job entail including what a typical day might be like?
I am the Executive Director of Kids Up Front Toronto. We are a charity committed to improving the lives of children by including them at arts, culture and sporting events in Toronto. As the Executive Director of a smaller charity, I do a lot of everything every day. My job includes fundraising, reporting, board relations, stakeholder relations, program creation, program dissemination, program evaluation, event planning and administration. There is nothing typical about my days or weeks, which is a good thing. Each task, big or small, boring or exciting, is helping to build a more inclusive society which makes it all worthwhile.
Can you briefly describe your career path and how you got your current job?
Like my work week, my career path was not typical. After 10 years of teaching high school I had an idea, and that was to fill unused seats with children who otherwise wouldn't have the chance. Through my own research I discovered Kids Up Front in Calgary, so I reached out and now here we are in Toronto (10 years old). There was a fair bit of work in between.
What's the coolest part about your job and what's the biggest challenge?
We get to give gifts to deserving kids every day. That is by far the coolest part. The biggest challenge is competing for donors' dollars as there are so many worthy organizations in Toronto all needing support.
What advice would you give to a job seeker looking for meaningful work?
Follow your passion but be realistic. Working in the not-for-profit sector is work that requires perseverance, grit, patience and hours. Many, many hours.
What can you identify as the biggest opportunity in your sector right now?
Canada has a new government (phew!). We are a free, democratic country with a lot to offer to the rest of the world. Immigrants are welcome here (thank god) but they need support. I think the biggest area to make a difference in our sector right now is in settlement services.