Barry Martin. Founder. Hypenotic
Barry Martin's transformation from an ad man at a traditional advertising agency to Purple Sheep is inspiring. One of the most amazing things about choosing to do work that you believe in is the feeling you get seeing the positive impact your work has on the community and the freedom to continue making a difference.
Can you describe what Hypenotic does?
In the nuttiest nutshell we're a design practice. We design marketing communications. But there are two special things about us. One, our mission; we're trying to manifest a more generative economy. Generative is when you bring other things to life by going about your business. We work exclusively with purpose driven organizations. We have a very firm line on this, even if an organization is doing amazing things with their CSR program but their core product makes their margins by externalizing costs to healthcare systems, the environment, communities or labourers, it's not going to be a fit for us. We feel like that would be working against the changes the rest of our clients are trying to make. Instead, we work with people whose efforts are generating a range of great returns, of which profit is only one.
The other neat thing about us is the range of offerings we cover. To inform the shape of our work together, we help clients with everything from figuring out why people should care about them (strategy), through to manifesting their agenda as experiences (digital, print, or in person).
When did you know you wanted to have a meaningful job?
Quite by accident actually. I have a degree in Advertising Design from Syracuse's Visual Performing Arts program, which was geared towards working in a traditional ad agency. I was groomed to be an Art Director.
I got a job at Saatchi as soon as I came to Toronto, and during a commercial shoot for Comet degreaser I had an epiphany. I was hanging out by the sandwiches, when someone wanted my feedback on the subject of the shoot. It was at that moment that I realized that yeah, that WAS my job. I'm supposed to be art-directing this stain of schmutz on a mock stove so it looks plausibly like what the legalese says at the bottom of a marketing insert. I started thinking about my future and realized that if I rocked this career, I'm going to get a big budget to work on a car commercial and that would be the pinnacle. It was a pretty empty feeling.
I lost interest in my job, and was (appropriately) fired soon after. I continued to work freelance, but with increasingly more awareness of who I was working for and to what effect. I started Hypenotic in '98 with the only guideline being to try and work with nice people. That slowly evolved to working with nice people doing interesting things and then nice people doing important things. Over the last ten years, we've worked with neighbourhood, city, provincial, national and international clients whose work is actually sparking multiple positive returns.
What's a typical day like for you?
After getting the kids off to school, I get into work anywhere between 8:30 and 9:15. The first thing I do when I arrive is define the two major things I want to get done that day (if I didn't do this the evening before), along with all the other things that are inevitably going to come flying at me.
I usually have at least one or two meetings a day. We often do these collaborative brainstorm sessions with clients. A lot of what we do is informed by an agile project management methodology. Everything is based on the principle of doing as little as we possibly can to know enough to move forward usefully. So we do these rapid ideation sessions that involve a lot of sketching. If I have a client in another city, I'll sketch something and hold it up in front of the chat window and ask "do you get it?".
What kind of people do you look for when you hire?
I look for intrepid people who have an interest in issues and craft. If you don't care about the world, I can't instil that in you. And if you're not driven to get better at your craft then we're not going to be a good fit. We're too small for people who want to coast–so getting better at what you do needs to be an internal driver.
I'll also tell you that I don't look at resumes. People bring resumes, send resumes, and I don't look at them unless they're really attention grabbing in some way. Not to say one shouldn't write a resume. When I speak to students, I qualify and explain that if you want to work at the kinds of company that puts resumes through a machine, it's important to know how to write a resume that will read well to a machine. But if you don't want to work at one of those kinds of places, then your best shot is to be defined by your interests and your achievements. So, go join something. Start something.
What skill sets does your staff have?
As a practice, our focus is on modern marketing strategy, user experience design, content strategy and performance oriented digital development. We're a small team (currently seven people) so we all wear multiple hats, and we all bleed into each other's areas. No matter your role, we expect everyone to be up on the latest in their practice.
Is there anything that you wished we asked but didn't?
Who my dream clients are? Our best clients have tended to be people with entrepreneurial spirits. The services we perform are in perpetual transition, so we prefer to partner with clients who are comfortable knowing that we're going to find out the answers as we work together. It takes a client who just trusts us. We know we've done well when we are described as people who don't always give a client what they ask for, but always give them what they need. We're happy with that- we love it! We had a client that tweeted when they left here how refreshing it was to have a supplier that says "no". So those kinds of people are really important to us.

Want more curated content delivered straight to your inbox?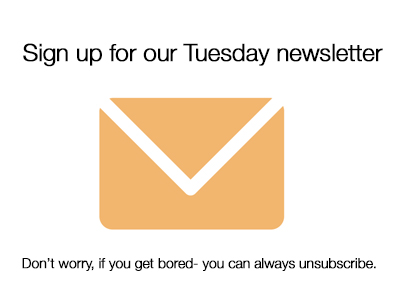 Follow us on twitter @b_meaningful and like us on Facebook