Heather Mak. Sustainability Manager at Retail Council of Canada. CSR Job.
Heather is an up and coming sustainability professional with a range of experience from consumer goods to consulting. Heather shows us that passion is just one ingredient to success and that for a career in Corporate Social Responsibility you need to have a strong business acumen with a healthy dose of empathy. Graduating with a B.Com from McGill, followed by an MBA from Schulich, Heather has both the academic knowledge and the practical experience that make her an excellent sustainability practitioner. Sustainability is about looking out for the future and as we think about the next 10-15 years we can't wait to see where Heather's career path takes her … because one thing we know forsure, it'll be up!
Can you describe your job in a nutshell?
I'm a Sustainability Manager at Retail Council of Canada.  I focus on driving pre-competitive collaboration in sustainability across Canadian retailers.  My job is different every day, it can involve creating and implementing a sustainability strategy, working with our sustainability committee, setting up and implementing a responsible sourcing strategy, and working on tactical issues in animal welfare, extended producer responsibility, carbon footprinting and waste.
How did you find your current meaningful work?
I found my job through a job posting, but getting it was a multi-pronged approach.  I had built strong relationships with retail members while I was at CBSR, and then further developed my knowledge of the space when I was at SustainAbility in the UK.  I'm sure it also helped that the hiring manager had been following me on Twitter for years and thought I had some compelling things to say.  Definitely a good excuse for using social media!
How did your past life and work experiences help get to where you are today?
I am a staunch believer that no experience is a waste of time if you have learned something. That being said, I'm assuming that I'm here because of my time working with retailers and consumer goods companies, and the breadth of experience I've picked up from consulting.
What advice would you give someone looking to get a career in CSR?
I know a lot of people say it's important to be passionate, but I think that's just one factor.  My advice would be that you have to combine passion with strong business acumen and empathy. Being able to speak and engage with a whole range of stakeholders is very important.  Lastly, the CSR/sustainability world is still burgeoning, there aren't a lot of big recruiting agencies in the space, so it requires a lot of hustling, and getting out there to meet people in the field and to understand what interests them.
What skills do you think are important to have for a career in CSR?
I think it's really important to have business acumen and empathy.  When I say business acumen I mean things like knowing how to communicate well and telling compelling stories in conversations, presentations, and in writing, but also having a strong sense of the business case for why things should be done.  Essentially, appealing to the head and the heart.  Also, with CSR budgets being as small as they are, it's important to be resourceful and have an ability to connect the dots.
What's one thing people might not expect to find on your resume?
It is too long ago, but some of my previous jobs included working at an art gallery, acting a personal assistant for a DJ, and working as a journalist.
What's a trend you are seeing that will impact your sector in the next 5 years?
There are so many things that will impact the retail sector in the next 5 years, among them:
Climate change – we've been seeing a lot of natural disasters lately in Canada, which shows how much we need to be prepared now and in the future for risks from climate change.  I think there will be a lot more focus on building resilient operations, and really combining the sustainability and enterprise risk management groups in retailers.
Technology – there are all sorts of disruptive technologies out there at any given time, but I think of concepts like showrooming, where people visit a physical store and then buy things online, will be huge, as well as the concept of dynamic pricing.  My hope is that it does not drive a race to the bottom.  As well, I'm really intrigued by 3D printing, in terms of shifting to a business model where we don't buy finished goods.
If you could have one super hero power that would help you do your job better what would it be and why?
Mind control would be great, to help persuade people to act in a more sustainable way, although half the fun of working in sustainability is listening and persuading!  Omnipresence or duplicating oneself would be great too, because there's always so many issues to tackle and not always enough time to get to them!
Like what Heather has to say? Follow her @heatherkmak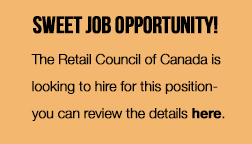 UPDATE: Heather is now currently working at Time Horton's as their Sustainability and Responsibility Manager.